! --------------------Body -------------------->

<! --------------------Navigation--------------->

Home



Tools



SHIII



SHIV





GWX Home



SubSim.com

















HexEditor

<! -----------------Seite--------------------->

List of available / linked modding tools
Pack3D


Pack3D

This is a link to the well known modding tool Pack3d by Sensal. The package contains all 5 versions that are known to me. I only host these files, so I will not support them.

It may be used to:
open and analyse *.dat files
import/export objects and textures to/from *.dat files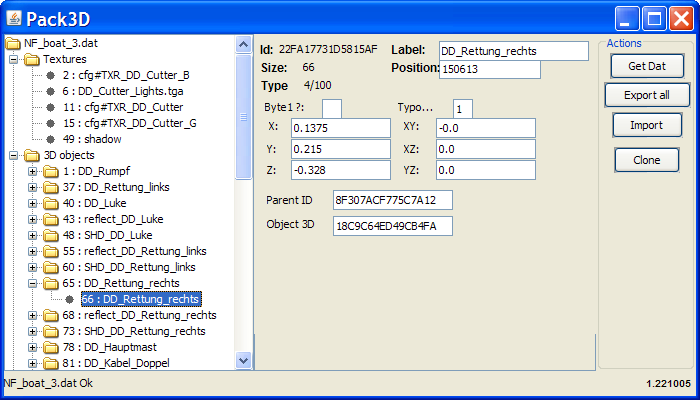 S3D-SilentEditor (by Skwasjer)


S3D-SilentEditor HomePage (external link)

This is a link to the well known modding tool S3D for SHIII and SHIV, made by 'Skwasjer'.

Features (taken from Skwasī website):
DAT/SIM/ZON/VAL/CAM/DSD/ANM file support.
SDL file support
OFF file support (font character files)
Integrated 3D model viewer, for entire DAT-file.
Integrated 3D zones editor for editting and viewing the damage and collision model.
Animation preview of 3D mesh animations.
Damage/collision model editor.
Import/export of models with the OBJ-format (WaveFront).
Import/export of tga's, dds's.
Import/export of a raw chunk. Can be used to move chunks over to other files.
Import/export of mesh animations.
Import/export of texture animations.
Export of models to COLLADA format (v1.4.1).
UV map preview function, and export option. The exported UV map can be used as an overlay in your favorite paint software, to aid in modifying textures.
Rich GUI, which allows you to edit all the data that is known to me or anyone else.
Property editor for all object controllers/properties, with a full edit mode.
Preview function for tga's and dds's.
Full cut/copy/paste support.
Add array items to arrays in property controller data.
Support for keyframe animations
Import of a DAT-file into another. Very useful to load a group of chunks, instead of exporting/importing each chunk seperately.
Multiple files can be opened (it will open in a new window). This is to support copy/paste and drag & drop in the future.
Two types of views for chunks: List, Tree.
Options for editing id's, offsets in decimal/hex, rotations in radians/degrees, etc.
Explorer style navigable links for id's. Click an id, if the id exists in the file, it will navigate to it.
Explorer style history of visited nodes. Back/forward buttons allow you to track back to previously selected nodes.
Rebuild the index chunk with all id's in the file.
List of all id's in the file (by selecting the index chunk). Id's and offsets can be copied to clipboard. Later, maybe even in all the game folders.
Support for placement chunk (cities/harbors)
Move chunk up/down in list. Only one chunk at a time.
Revert changes option (entire reload, not undo/redo)
Recent file list
Remap function (cloning)
Global file search function (search for an id in any file)
Drag and drop support for opening files directly from Windows Explorer.
Undo/redo support to undo changes made to a file.
Automatic check for updates.
Find/Goto dialog to quickly find a node by text, id or index.
Integrated analysis tool for analyzing unknown data using a hex editor.
Ability to add known chunks, including all the controller property chunks.
Assign a new random id to a chunk.
And more...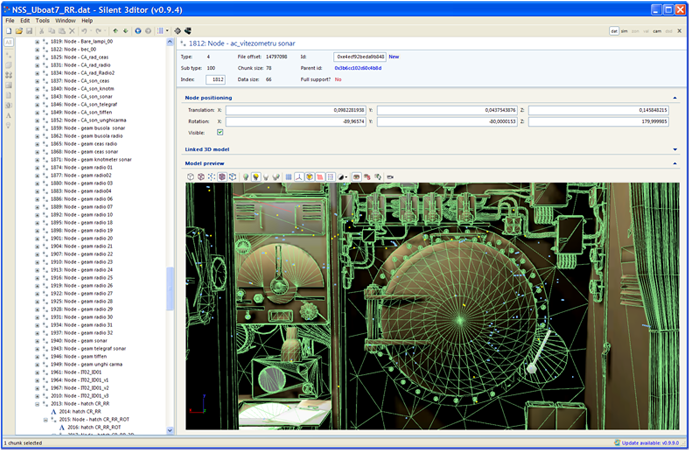 Scaling Wall
DD_Skalenwand.rar

This "scaling wall" may be used to get the right scale for 3d modelling for SHIII and SHIV.






Tweakfiles SHIII
Captainīs position on conning tower
DD_CapPos_View_TweakFiles.rar


This package contains tweak files to modify the captainīs viepoint position on conning tower for the following U-types:


<! ------------------------------------------------------------------------------------------------------------->


Gunners Viewpoint
Gun_View_TweakFiles (ca. 0.4MB)
Use this file with TimeTraveller`s MiniTweaker to change the gunīs viewpoints. An already tweaked Guns_SUB.cam is included.

before / after <! ------------------------------------------------------------------------------------------------------------->





Interior Lightīs Color
InteriorLights_Color_TweakFiles (ca. 0.4MB)
InteriorLights_Color_OpenHatch_V2_TweakFiles (ca. 10KB)
Use this file with TimeTraveller`s MiniTweaker to change the color of the ambient light.
Credits for TweakFiles:
TimeTraveller for his wonderfull MiniTweaker

http://hosted.filefront.com/DivingDuck